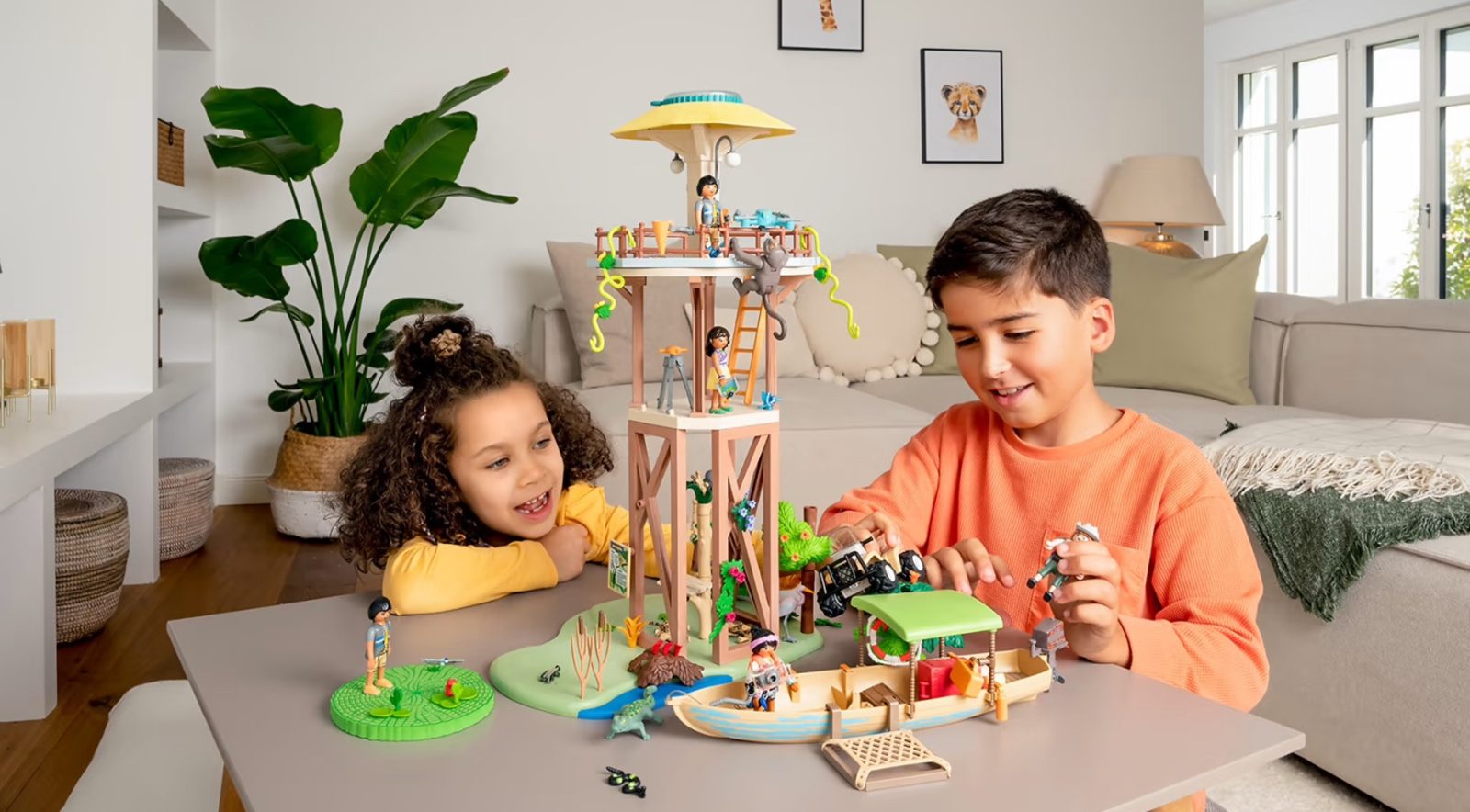 Playmobil sets course for the future
Nuremberg, January 2023 – At Nuremberg Toy Fair, the Horst Brandstätter Group is giving an insight into the orientation of its Playmobil Business Unit. With new products and an increased commitment to the Chinese market, the company is going to enable inspiring play experiences worldwide in 2023. Sustainability will continue to be an important yardstick for all corporate activities in the future. Roger Balser, Head of the Playmobil Business Unit, explains: "For our customers, sustainability is an important purchase criterion. Our Wiltopia product line, which launched last autumn, is made from over 80 percent sustainable material. Moreover, Wiltopia stands for a world in which animals and nature are protected and appreciated. Playing and learning is combined in a unique way".
Playmobil highlights in 2023
The Business Unit is presenting a mix of novelties and classic themes. Popular product worlds such as Farm, Rescue, School, Princesses or Knights are interpreted in a modern way and score with fresh ideas. "For us, the consumer always is the focus. Playmobil shows how megatrends such as diversity or sustainability can be combined with inspiring play experiences", says Balser. For example, with the Farm, the Horse World as well as Wiltopia, three Playmobil series will be on the market this year that are on average made of more than 80 percent sustainable material.
One of the highlights in 2023 is the partnership with Disney: Classics such as "Winnie the Pooh" or "Mickey Mouse" will be a new addition to the Playmobil 1.2.3 range. With the new edition of Playmobil Color, the company is offering figures and accessories again that can be painted by yourself.
Fans and collectors can look forward to new products for the Naruto Shippuden anime series as well as iconic vehicle models from Citroën and Ferrari.
"Phygital Journey" in China
With the successful opening of a Playmobil Experience Center in Shanghai, Playmobil Creative Play (Shanghai) Co., Ltd has launched its sales and marketing activities. Visitors to the centre enjoy a new world of experience that combines physical play and digital innovations. During a "Phygital Journey", children and adults can make use of various offers, such as interactive play tables, design software, photo shoots with digitalised Playmobil figures, or participate in immersive games. They can immerse themselves in the inspiring world of Playmobil and experience how imaginative role play can inspire creativity and strengthen personal skills. The Experience Centre also has an "Inclusion Café".
The concept has received an extremely positive response among adults and children so far. "Free, creative play promotes many social skills in children. The centre has become an attractive destination for families in Shanghai," says Roger Balser. In the meantime, Playmobil Creative Play (Shanghai) Co., Ltd. cooperates with more than 500 stores in China and is connected with more than 300,000 fans on social media.
Investment in start-up Kekz® GmbH
At Playmobil's Toy Fair stand, the Munich-based start-up Kekz® will be presenting itself for the first time this year. In November 2022, the Inspiring Play Experience business area of the Horst Brandstätter Group, which also includes Playmobil, acquired a 25 percent stake in Kekz®.
With this investment, the Horst Brandstätter Group is implementing its strategy of taking new entrepreneurial initiatives and investing in specific projects with partners. The focus of the investment in Kekz® and also of all future investments is to open up new fields of activity with innovative business ideas. Kekz® has revolutionised the way preschoolers consume their favourite audio content at home and on the go with its wireless children's headphone system. The entertainment device relies on an intuitive handling that enables children to control audio plays, music and audiobooks in a self-determined way - without download, without screen and without external audio source. "Through a simple plug-and-play mechanism, it's easy to start the audio content," explains Carl Taylor, who founded Kekz® GmbH in 2020 together with Adin Mumma.
Further information and images: http://newitems.playmobil.com