Permanent Development as a Maxim
The Horst Brandstätter Group has set itself the clear goal of permanent and ongoing development. Consumer-focus, entrepreneurial thinking and agility on all levels provide the basis for this.
Every business area is focused on delivering long-term benefits for consumers and the company alike, and this forms the basis for a comprehensive range of services. In this context, interdisciplinary teams are working on the development of a wide range of products and services. Accordingly, all employees are called upon to act as co-entrepreneurs and seize market opportunities quickly.
In this sense, the Horst Brandstätter Group considers itself an adaptive organism that is permanently attuned to changing market and consumer needs. Our own development is considered to be a standard process, and this demands a clear focus as well as new forms of cooperation. Small units and project teams facilitate rapid, consumer-oriented action, cross-departmental cooperation and the exploitation of synergies, either independently or together with external partners. This delivers successful lifecycle management for the product and service portfolio in each business area.
In the process, the company's own work culture and all processes are subjected to scrutiny. Each individual is responsible for acting inline with market demands and promoting competitiveness. Willingness to learn, adaptability and resilience are crucial for achieving this.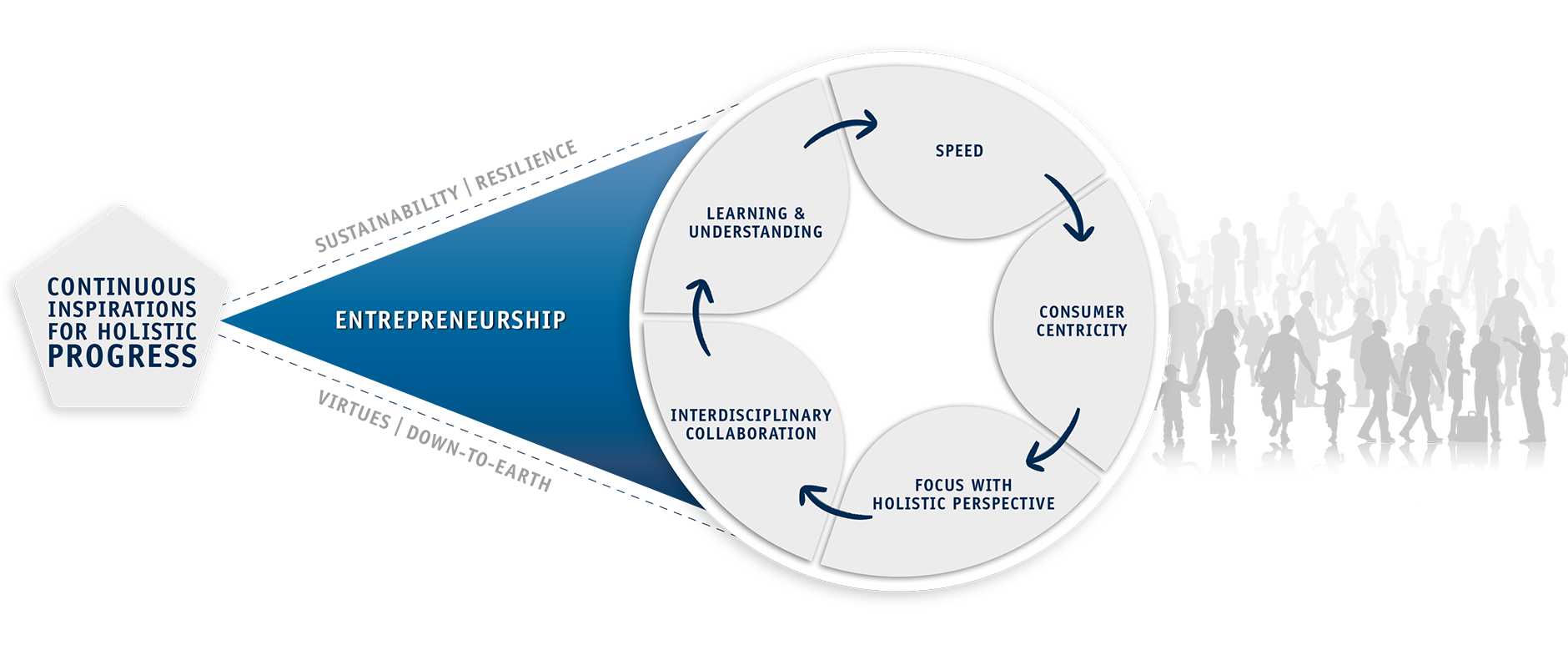 Virtues
HBG builds upon clear collaborative fundamentals. To give our working environment direction, "virtues" have been defined, which we consider to be a foundation for permanent development. They represent values that have shaped our organization and made it strong. At the same time, they empower a new management style and enhance the ability to change perspectives.
Trust
Our company is built on mutual trust – on reliable collaboration between colleagues and personal integrity. This creates the freedom that people, and above all the company, need in order to develop. A clear, realistic outlook and down-to-earth attitude are further necessities here.
Responsibility
We at the Horst Brandstätter Group are always prepared to accept due responsibility and assess our actions with a critical eye. This also requires courage and a willingness to take risks. Any conflicts are dealt with responsibly and resolved constructively. This applies equally to every part of the company, as well as to each individual member of the team personally.
Motivation
Taking the initiative comes naturally to each and every one of us. We see challenges as opportunities, and take pleasure in setting ourselves tasks to achieve. We can rely on our personal commitments being recognized and valued.
Willingness to Accept Change
We are poised for change. Openness to new things is needed, as is the capability to step away from existing ways of thinking and comfort zones. We want to act, not react. This applies to each individual member of the team and our entire entrepreneurial focus. The consumer is always at the heart of our thoughts and actions.
Determination
We pursue clear goals, develop solutions, and realize them systematically – with creativity, discipline and speed. In doing so, we are able to rely on our implementation strength, whether at departmental, team or individual level.
Team Spirit
Teamwork is essential for achieving the highest level of performance. We work collaboratively and on equal terms. We firmly believe that 1 + 1 is greater than 2: the whole is greater than the sum of its parts.
Sustainability – Our Understanding
We consider sustainability as an approach – and the central answer to the question of HOW we want to live and work. For us, taking a systemic and holistic view of the world is essential. Those who make a relevant sustainable contribution must also be able to tolerate contradictions and conflicting goals. A willingness to learn is required, as is the ability to repeatedly engage with the complexities of this world. An eye for detail is just as important as keeping the big picture and interdependencies in view.
Entrepreneurial activity, the purpose of which is to achieve long-term improvement, thus requires repeated benchmarking, new thinking, insights, corrections, discipline, practice, patience and persistence. We are facing this in every business area.
It is of great importance to the Horst Brandstätter Group to comply with laws and ethical standards
In order to prevent or identify misconduct or to be able to react appropriately to such, it offers employees and external parties a protected whistleblower system through which unlawful conduct can be reported.